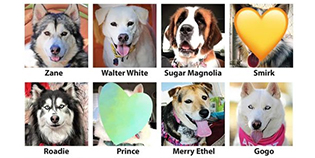 If you have ever considered ADOPTION, now is the time! NMDOG is waiving all adoption fees through the end of the year. You do still need to submit an adoption application, schedule a home visit/meet & greet, and be able to offer everything our pup needs.
All NMDOGs go to their new home with all they need to get started, including a Fi GPS collar + one year subscription, crate, food/bowls, bed/blankie, toys, monthly preventatives, and much more! We stand behind the Dogs we rescue (and their humans), providing all the support you might ever need. At NMDOG, setting our Dogs up for success IS the top priority.
>>NMDOG Adoption Fee explained (waived!)
A ❤️ on the image below indicates "Adoption Pending." These kids are currently on their trial adoption periods. Please SHARE!!! Our goal is to have each all these kids into a REAL HOME by the Holidays!!