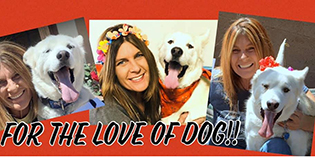 Another year has passed, and Astro and Angela are another year older! Isn't it wild how that happens! This year ASTRO will be 9 and Angela will be 54 (whaaat!?!), making our traditional annual combined Birthday fundraising goal $5409!! But wait….we have amazing news!
We know times are challenging for everyone, and we get it. This is why we are so excited to tell you: we have received a MATCH pledge in honor of our Birthdays for all funds raised during the month of May, up to $5000! This very generous gift will DOUBLE THE IMPACT of every dollar donated $5 = $10, $20 = $40, $100 = $200 and so on. We are so incredibly grateful to our special secret Match donor, as things are extra challenging and hard in the animal welfare world right now.
There are so many dogs who still depend on NMDOG for lifesaving care despite what is happening in our field or in the world. In fact, there are more dogs now than ever before that need us and depend on NMDOG for help. $10,000 sure would go a long way…
I know this is a lofty goal (especially lately) but I've seen many miracles happen over the past 13 years of running the organization. If anyone can do it, the NMDOG Village can, because the dogs are counting on us and YOU will make a direct impact in the life of a once forgotten chained dog.
Please join Astro and me in celebration of our special day and to honor Astro, who we never thought would live to see his first birthday. But he did and he is still thriving, and that is what NMDOG is all about! Thank you!! With love, Angela and Astro Xo Arhooooo!!
You can donate to this fundraiser via Facebook. Facebook takes care of the donation processing with no fees.
Or, if you prefer: PayPal – @NMDOGinc | Venmo – @NMDOG | Zelle – [email protected] | Snail Mail – 9445 Coors Blvd NW #171, Albuquerque NM 87114
Check out our (Platinum level!) Guidestar profile!
Now, a word from ASTRO, The Magical Unicorn Dog…..
Hey humans!! NMDOG ASTRO here, with a very exciting announcement ~ I wrote my very own rescue birffday story, check it out Rahoooo!!!
May 2nd 2018 is a birthday I wouldnt be having if NMDOG hadnt saved me. I was sitting alone & afraid in the shelter, I was very, very sick but no one noticed….that is, not until NMDOG came along. Which is fate because rarely does NMDOG walk a shelter looking for a dog to pull (the majority of their work is done with chained dogs in the field) but on this day they did!! They said I failed safer (I dont know what that is but it sounded important) because I was sick, so they scooped me up & got me out of there right away.
My first trip to the vet was scary & everyone seemed sad. I heard them say that I suffered from a nearly fatal toxicity that caused my kidneys to fail & I had neurological damage too. That sounded bad, was I going to be ok? I was so tired from my very lonely & hard first year of life, but the lady that got me out of the shelter took me home as soon as they let me leave the hospital & she took me under her care. She tended to my every need…she even fed me special food with a syringe for weeks because I couldnt eat on my own. She told me she loved me. Nobody ever told me that before The vet didnt give me much time, but my Angel never gave up on me & she never ever told me how sick I really was…she just kept telling me I was going to be fine. I think that was because she didnt want me to give up either!
After months & months of treatment, diagnostics & management care, I finally turned the corner! By then my Angel became my Mama…her name is Angela & she calls me a Home Sanctuary Dog & I love being a Home Sanctuary Dog 9even though we are very expensive, my Mom says Im worth it) because that means I am a treasured member of her FoReVeR pack where I live a normal happy life as a Magical Unicorn Dog! I LoVe being a Unicorn!
On my first birthday, we had a party at the hospital where I lived. Then I had another birthday & I turned two. then three, four, five, six, seven, eight & now I am turning NINE! I am going to continue to celebrate having everything I ever wanted & most of all, I am going to celebrate my LIFE with my Mom & my brothers & sisters in my Home Sanctuary Dog home! I decided a long time ago, that every year on my birthday I am going to help raise money so my Mama can continue to make miracles happen for other Forgotten Dogs because she made a miracle happened for me.
My Mom is very busy..she gets up very early every morning & takes care of everyone (there are a lot of here at NMDOG HQ). Shes always on the phone or the computer & she runs in & out of the house all day. But I know it is because she is trying to help other Forgotten Dogs, so its ok. I know at the end of the day we will all have time to snuggle & play. My fave thing to do is jump on her head & yell "Good Morning!!! Its a great day to be a Unicorn!" That makes her laugh so it makes me laugh too…then we all jump on her & give her kisses. #HomeDogs
In rescue one rarely knows the true birthday for a dog like me…..so one is automatically generated based on an educated guess (thats what the vet calls it). When I was in the shelter, they gave me my very own birthday & it is the same one as my Mama, Angela. I think that is pretty special. You all know her as the Founder & Director of NMDOG…but me, my brothers & my sisters…we just call her "Mom". Now that I have everything I ever wanted, I want to help other dogs out there that are still hurting like I once was. So in celebration of our birthdays – both on May 2nd – Angela, thats my Mama & ASTRO, that's me, are raising money for NMDOG!
NMDOG is an all-volunteer, foster based 501(c)3 rescue org that cares for the victims of some of the worst cases of abuse & neglect across the state. Starting NMDOG & running all of the daily operations is my Moms life calling. She is out there 24/7/365 days a year, as an unpaid volunteer…making life better for NMs Forgotten Dogs. As a result of this passion…100s of Dogs have been rescued off of their chains, rehabilitated & rehomed as true members of a family. 1000s of other chained Dogs have been helped & supported with her passion. There is not a day that goes by that my Mom isn't working her tail off.
These funds make all of the difference to many, many lives & for many (like me!) it is the difference between life & death. My Moms motto is "For the LoVe of Dog" & she lives it every single day. Just ask me, I should know! Let's help make this birthday a great one for NMs Forgotten Dogs & DONATE to NMDOG….the rescue that has our hearts! Nothing would make me & my Mom happier than to be able to help more Dogs & to continue to provide the very best of care to the lucky dogs already in the NMDOG program.
Thank you!! With love, ASTRO the Magical Unicorn Dog