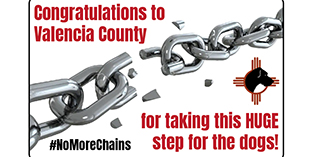 Drummmrollllll…. NMDOG Village and residents of Valencia County YOU DID IT!! Last night at the Valencia County Commission meeting the new Animal Welfare Ordinance was approved! The new language includes Zero Tolerance Anti-Chaining, more humane requirements for outdoor shelter, mandatory microchips, and more!
There will be a grace period put into place to allow residents who currently have chained dogs to come into compliance. There will be resources available for those who need help. There will be outreach and education efforts the likes of which Valencia County has never seen before. Now the work truly begins. For The LoVe Of Dog
HUGE thanks to Jess and the whole Valencia County Animal Control department for spearheading and standing behind this ordinance! Thank you to the County Commissioners for hearing the voices and being willing to give humane treatment of Valencia County animals a chance! And thank you to every soul who attended the meeting, shared the cause, and donated to the compliance fund! It takes a Village to effect real change and you are the best!!
Congratulations Valencia County!
Stay tuned to the NMDOG Facebook page and website for more news on this topic. We will keep you all posted as things are put into motion.