NMDOG has no shelter facility and relies on foster homes to house our NMDOGs after their rescue. Dogs for whom no foster home is available are housed in a private kennel. When we are able to place an NMDOG in a foster home, this frees up kennel funds and space for us to help another dog in need. The care and companionship a temporary foster home provides by making an NMDOG part of the family gives them skills to take on the next step of their journey. This contributes greatly to their overall placement success! Currently, we have many great dogs in need of foster homes to help get them ready for forever. There is never a cost to foster an NMDOG, you provide the love, and we take care of all the rest. We offer training and full support to all of our treasured foster guardians and their NMDOG foster kids.
Join the NMDOG family today and become a part of our pack! Learn more about the NMDOG foster program, and submit your foster application! Fostering literally saves lives and is the backbone of the work we do. WooF!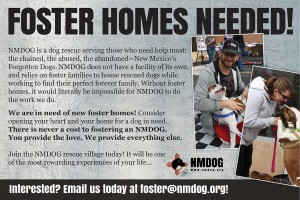 Urgent Need for New Fosters!
×