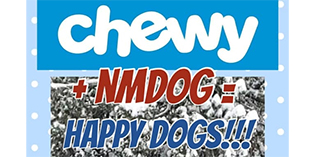 NMDOG Village, THIS is completely cool: Our friends over at Chewy have initiated their Rescue/Shelter support program and we just got all set up.
CHECK THIS OUT…
For EVERY new Chewy account via the NMDOG portal page, the awesome folks at Chewy will donate $15 to The Forgotten Dogs of NM.
Just click this link to set up your account and start shopping today!
You will also find our Chewy Wish List on the NMDOG portal page, with lots of things we need and use each day, along with some super special treats to make our kiddos smile. There is also an option to make a direct donation onto our Chewy account so the dogs can pick out some things for themselves!
All NMDOG Paws High to Chewy for their support of Rescue and NMDOG! Now go open that Chewy account!!!