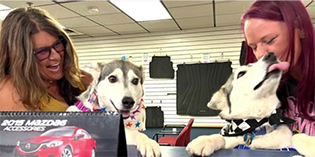 NMDOGs Marilyn and Maxximus had a "WooWoo" really good time visiting employees and customers at their Quality Mazda Showroom Meet & Greet. They got lots of snackos and pets!! Thanks to our Local Business partners at Quality Mazda for all of the support they continue to give our Dogs!! When you purchase a (new OR used) vehicle from Quality they make a donation to the Forgotten Dogs!
Marilyn and Maxximus were tied up to a fence and abandoned together at an Albuquerque dog park, during a severe storm, almost a year ago. They have been looking for their TRUE forever Husky home with #NMDOG ever since. If these adorable little Fluff Nuggets are adopted together, we will waive their adoption fees completely! (NMDOG adoption guidelines still apply and they will still come with all of their "things") LOL soooo many things!!
Paws high to our friends @slobbersense for this cute video!!
Make a tax deductible donation, fill out a Foster Application, or an Adoption Application. The need is great!