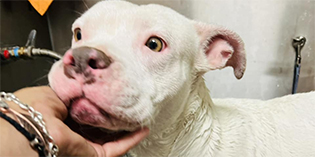 ❌ WARNING! Disturbing Image ❌
NMDOG Village: meet the newest member of your pack, Shyne!
We were contacted by the Bernalillo County Animal Care and Resource Center to help with a Dog who was surrendered to one of their Animal Control Officers in the field. I apologize for the graphic nature of the image included in this post, but there is no way to tell Shyne's story without sharing with you, the cruelty she was forced to endure.
Unfortunately, I was not provided with a lot of solid info surrounding her field surrender, but I was told (in no uncertain terms) that animal cruelty charges would NOT be filed against those who (so clearly) intentionally inflicted such cruel (and illegal!) suffering. Those who surrendered her, claimed she was hit by a car.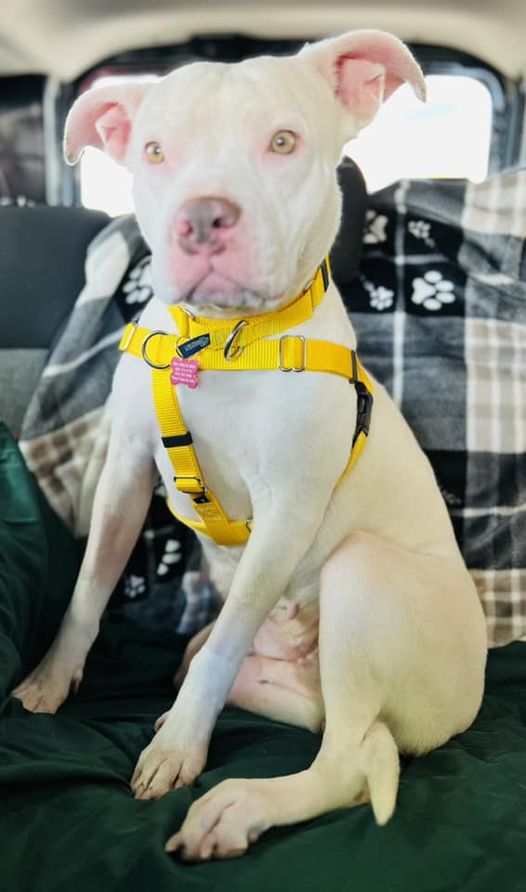 I cannot say for certain that Shyne was not hit by a car at some point, but what we do know (in no uncertain terms) is that the smooth, precise cut was done intentionally and not by a licensed vet (this is according to the numerous DVMs who have viewed the image and a well-respected Forensics Veterinarian). The conclusion is the same: Shyne suffered unspeakably while in this condition. To quote a Veterinary Forensics Specialist that we consulted with her photos, "The owners were very "intentional" in their failure to seek veterinary care and allow for the suffering to continue. Any vet can easily testify to the suffering…" and we tend to agree.
Unfortunately, I cannot tell you why extreme animal cruelty charges are not being filed or at the least, why an investigation is not being done. But what I can tell you is that Shyne will NEVER suffer another day in her life, and we will continue to seek justice for her, in our own way. Shyne is an amazing spirit!! Initially, when arriving at NMDOG HQ, she was fearful, reactive, and unsure about everything. But that soon all fell to the side once she realized she was now SAFE and surrounded by Love. Now Shyne is wiggly, affectionate, silly, happy and she is very nice to her neighbor dogs here at HQ. We are confident she's going to make a full physical and emotional recovery from her extremely brutal ordeal.
What was left of the leg was amputated at the shelter upon intake, but upon further examination by our VetMed Team it has been determined that Shyne will need to undergo further amputation (and she still needs to be spayed) so we are hoping to get her on the Doc's schedule asap. Once she has made a full recovery from her next procedure, Shyne will be available for adoption.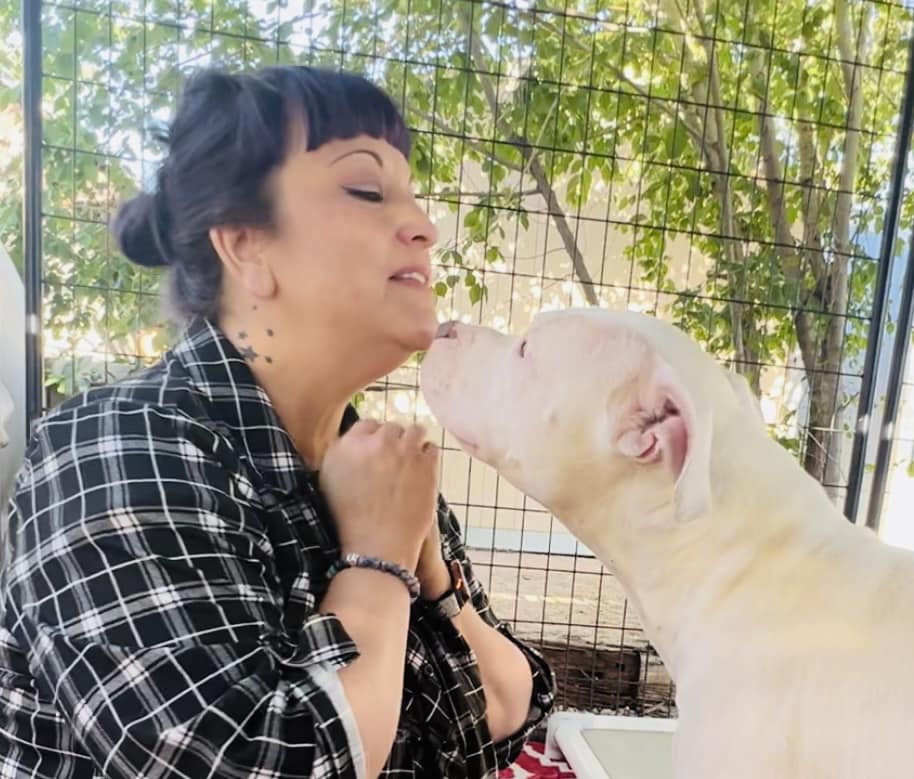 Can you help us provide Shyne with the medical care she needs and deserves? ALL DONATIONS MADE TO NMDOG DURING THE MONTH OF MAY WILL BE MATCHED (up to $5k)!!! Make your donation via Shyne's Facebook Post | PayPal – @NMDOGinc | Venmo – @NMDOG | Zelle – [email protected] | Snail Mail – 9445 Coors Blvd NW #171, Albuquerque, NM 87114
Shyne has a very important meeting to attend today with a very important Human and she has more updates to share with you all asap! Thanks for being our Village and enabling us to help these deserving Dogs.
#AnimalCrueltyCannotBeTolerated