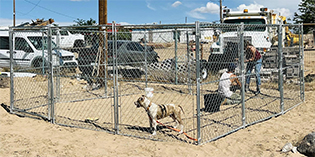 Recently, we received a call about a kiddo in SW Albuquerque being tethered out in the dirt and sun with only a broken-down minivan for shelter. The caller also reached out to Bernalillo County Animal Care and Resource Center and Animal Protection New Mexico with their concerns. Once a welfare check was performed by a BernCo ACO in accordance with our zero-tolerance, anti-chaining ordinance, we followed up and learned more from the responding Officer.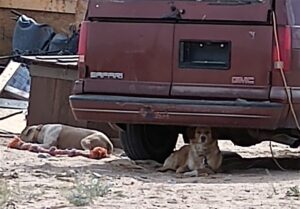 This ACO wanted to find support vs the punitive route for Pluto and his Dad in order to keep them together. We were told Dad was going through some pretty tough times and was living with Pluto in this broken-down van on the property. The property is owned by Dad's employees (a moving company) who have also been trying to help him stay on the right track. One of Dad's biggest roadblocks was having a safe place for Pluto while he was out working during the day. Without a running car or a residence of his own this was proving to be a problem. Dad loves Pluto and has had him since he was a tiny pup. We wanted to help Pluto and his Dad to ensure Pluto is safe, comfortable and happy while Dad is working to pick up some pieces and stay on the right track!
So, today, with the help of a couple of awesome #NMDOG Volunteers, YOUR ongoing support, the property owners, Pluto's Dad and his GrandPa, we set Pluto up with a safe and secure Doggy condo of his very own. #NoMoreChains!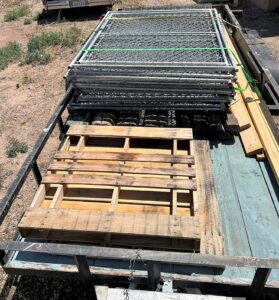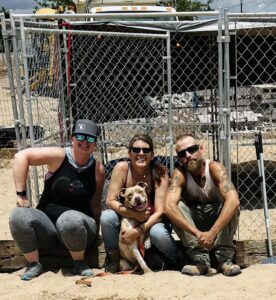 Pluto's #ChainFree pad is so sweet, he can even have his little GirlFriend Doggie, Star, safely stay with him too on the days Star's Mom joins the moving company crew! No more chains for her either!
And it gets even better….
We are going to set them both up with Spay/Neuter appointments at one of our #VetMed providers asap, including all vaccinations and microchips. The ground is all sand, so we anchored railroad ties around the base of the entire 15×15 to discourage digging and to keep the fencing from blowing away. We attached 2 more 5′ panels on the inside to create an anchor for the tarp providing shade and cool ground, which is ratchetted down on all sides. We provided an elevated doghouse and an elevated kiddo pool stand, which Dad will keep clean and refreshed daily so Pluto always has the option of a little swim. We also left 2 raised cot beds, 2 big bags of food and some snackos, along with a few other things I can't remember!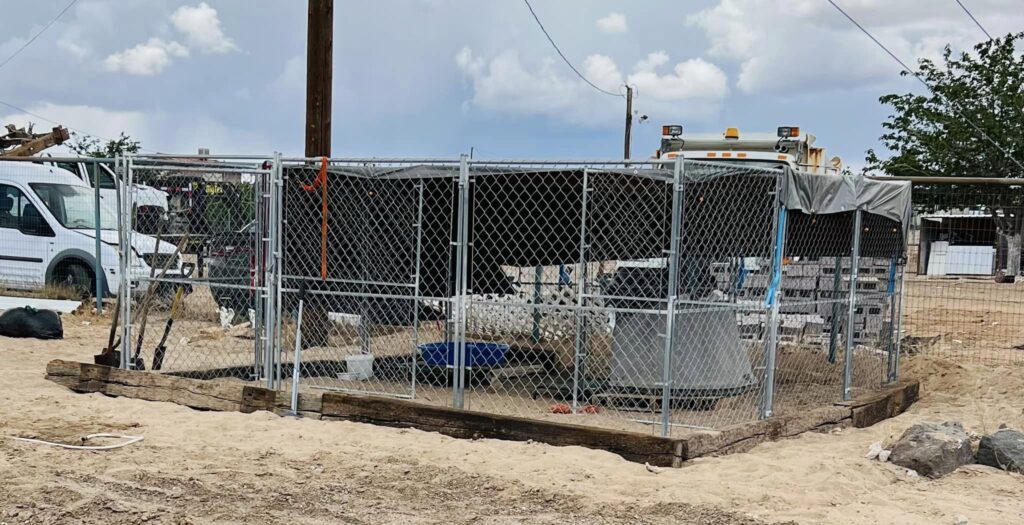 We are grateful to everyone who came together to make life better for this sweet, deserving little Pibble Pluto and in turn making life better for his Dad who was sleeping outside in the broken-down van with Pluto because he hates being away from him, even though his employers invited him into their home to sleep at night. Dad told us today that he will pitching a tent with Pluto in his Doggy condo, until he saves up enough money to buy them a little camper, which, hopefully he can do now because Pluto has a safe place to stay while he is at work!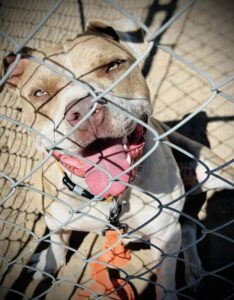 If you feel so inclined, please consider a contribution towards our life-changing Outreach work. ALL DONATIONS MADE TO NMDOG during the month of May will be MATCHED by a very generous supporter – including all made via the Facebook post!
Or, if you prefer: PayPal – @NMDOGinc | Venmo – @NMDOG | Zelle – [email protected] | Snail Mail – 9445 Coors Blvd NW #171, Abuquerque NM 87114
Today's project with all provisions valued at just over $1000.
Upcoming Spay/Neuter, vaccinations + microchips for both Pluto and Star will run us anywhere between $500 – $900 depending on which clinic we can get them into ASAP. Thank you for your ongoing support!! You ARE the BEST Village any little #RESCUE ever had!