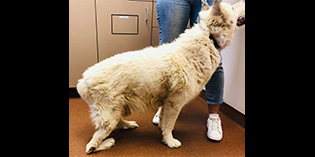 NMDOG Village, this one is gonna be a doozy (translation: "expensive") and his story will make you mad, but when you hear about all of the good his future now holds and see the smile on his beautiful face Unchained, well, that is what keeps us "Keepin' On"!
Meet Prince, the newest member of the NMDOG pack and a collaborative rescue commitment with our friends at Healing Horses Helping Huskies. This little slice of heaven is a very private and amazing place in our East Mountains. They have promised Prince a home, for forever, once he is all healed up post-op and able to keep up with their Home Pack. And he will be…with your love and support!! 100%!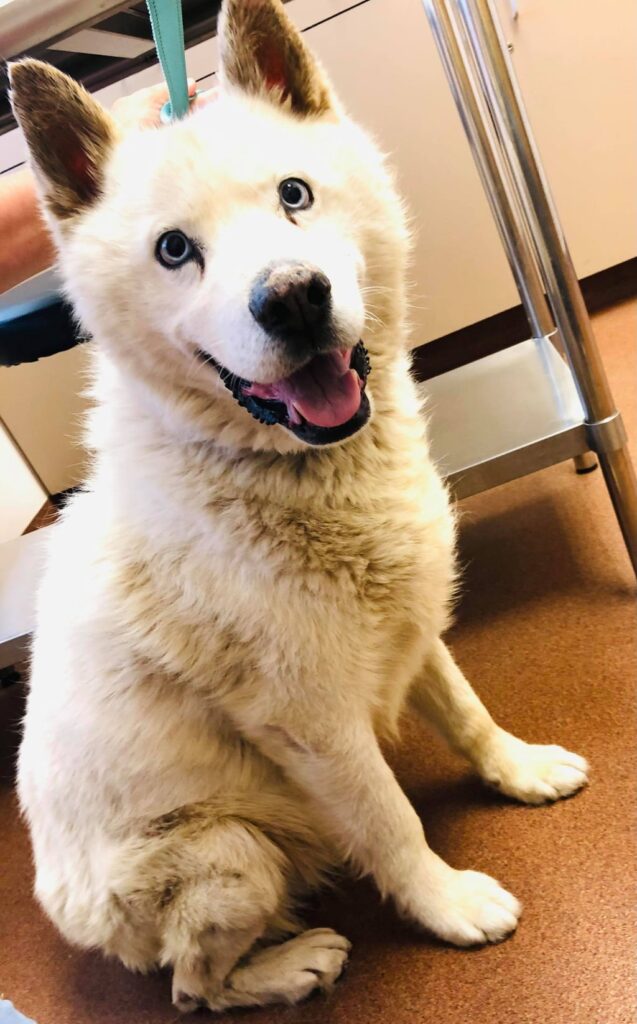 Actually, that is where sweet Prince has been since coming into our collaborative care nearly one month ago. He has been doing so incredibly well and (for the first time in his life) is free to make choices for himself and "move about the cabin." He has chosen to make friends with the resident dogs (all Northern breeds) and he chooses to participate in daily pack walks on the very safe and secure property. His pain is currently being managed, and he has been exploring his newfound freedoms while we have been exploring all medical and orthopedic options in our efforts to give Prince the very best life! It's a lot, so let's back up a little bit….
Prince is around eight years old. He was born in a backyard somewhere outside of Taos – we don't have any info on his littermates or his parents. But we have been told that this first humans were very cruel and intentionally cut off his tail and severed his Achilles. It was said to have been done at the request of "the little daughter–to make him appear more rabbit-like"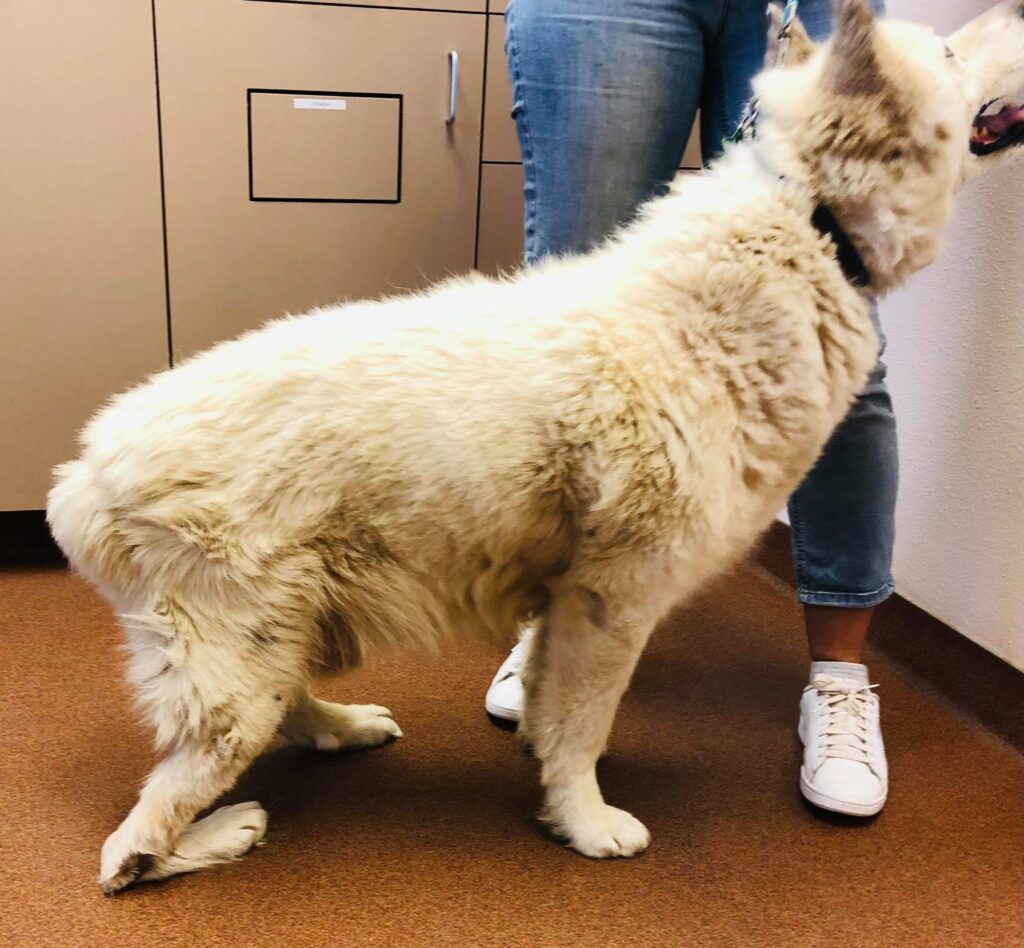 There are no words. Thankfully, he was taken in by a different family, and, although they did not abuse Prince, they also did not provide the care he so desperately needed. Prince was confined to a very small and unsanitary area for eight very long years. We are so grateful this family did the right thing and reached out for help. We know their intentions were never malicious. We also appreciate the efforts of the family member who took Prince to be groomed, and to those in the family who will be donating to his care. Thank you. Sincerely. These are the situations which provide the opportunity for growth and education, so that lessons learned can be passed on for generations. This is our hope for the future: towards a more compassionate world. There is ALWAYS a more humane alternative to a lifetime of suffering.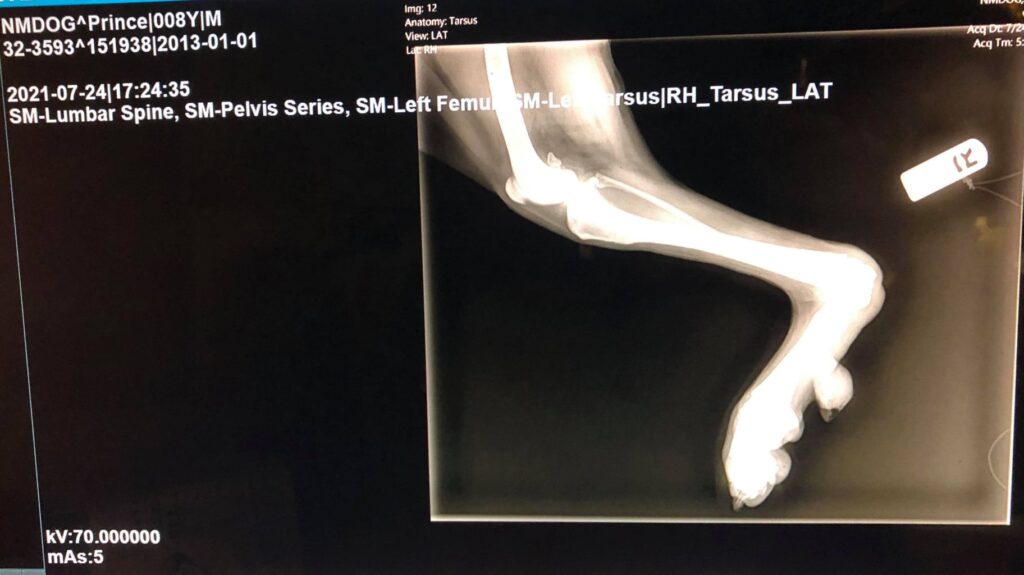 Luckily for this handsome boy, we were given an excellent prognosis: full pain-free mobility! His initial consult with Dr. Schwarz at Veterinary Emergency and Specialty Centers of New Mexico went very well, and the good doctor is confident that Prince will be running and jumping in no time. Well, technically Prince will be undergoing STRICT post-op care (to include laser, shockwave, and physical therapies) and restrictions for 10-12 weeks; whatever it takes to ensure the best outcome.
Village, as you can imagine, this procedure is not cheap. It is called a "Tarsocrural Arthodesis," which involves fusing the bone, and surgery is scheduled at VESC on 9/8/21. He will also be neutered and the hole in his prepuce will be repaired (per the doctor, "likely caused by trauma"). His dew claws were grown into his pads which caused a painful infection, but that is all cleared up now. The fly bite wounds on his ears were so bad they had to be debrided and are also being tended to long term. Overall, Prince's life has already greatly improved, and we are committed to seeing him all the way through to the other side. Can you even IMAGINE? Being able to run and jump and just be a Husky after eight long years of pain and immobility. We are SO super happy and excited for him, we just can't wait!
Please JOIN US in our commitment to Prince by making a tax-deductible donation towards Prince's initial surgery and rehabilitative journey: from Forgotten to Forever. You can use the DONATE link on the right hand side to make a donation. If a check-donation is preferred, please mail it to NMDOG, 9445 Coors Blvd NW #171, Albuquerque NM 87114 (Prince care packages can also be sent here!). If you would like to make a payment directly to the clinic, please call (505) 883-8387 and tell them it's for Prince on the NMDOG account!
Prince has a recovery spot reserved here at NMDOG HQ, as needed. This will obviously involve relocating a current HQ Kiddo to make room, but Prince will be very special needs for a few months. Remember! Post-op recovery is nearly, if not as, important as the actual procedure.
IF YOU ARE ABLE TO FOSTER …NOW IS THE TIME. We are in URGENT need for either a very specific medical recovery (only dog) foster for Prince, or a handful of awesome Foster Homes for non-medical NMDOGs! We NEED you, THEY need you!! Please SHARE and ask your friends to help too!!
The ONLY way we are able to make such an impactful, life changing difference for these incredible dogs is because people like YOU support our all-volunteer mission: To serve and protect NMs Forgotten Dogs. Updates on Prince to follow. Thank you for always having their backs (….and their poor little feet. ugh!).