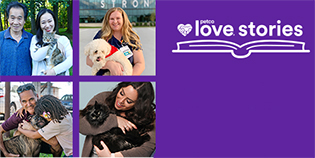 Help NMDOG win lifesaving funds! NMDOG Adopters are needed to share their love stories. How has your NMDOG changed your life? PetCo is looking for a diverse range of stories that celebrate the simple ways that pets bring more joy to life, as well as one-of-a-kind, extraordinary stories. They want all adopters to be able to see themselves in these stories, and animal lovers of all backgrounds to be inspired by the life-changing power of adoption!

To reward you for your efforts, PetCo will give NMDOG the chance to win $25,000! Plus, any submission will be entered to win a $1,000 Petco shopping spree and BOBS from Skechers goodies! Not only that, Petco Love will select one animal welfare organization every month from current submitted stories to earn a surprise grant award!
Long story short: more submissions = more chances to WIN! SUBMIT YOUR LOVE STORY BY SEPTEMBER 20TH!
Thank you…to the BEST Adopters any little Rescue could wish for…