NMDOG Village, please welcome one of the newest members of the NMDOG pack: Pluto!
This sweet little guy came from our Unchain Valencia County efforts, skinny, beat up by other dogs, and a little wild.
Little Jo and I took a bit of a beating for the first few days, while Pluto got some of his chained up energy out. Poor guy, I don't think he's ever had anyone pay any attention to him and he just went over threshold really easily. But, after lots of nutritious meals, solid playtime in the yards, fun enrichment, a little patience and some gradual, steady paced runs…he is settling in very well now!!
THANK YOU NMDOG Volunteer runners Amy and Aleeca!
Pluto is approximately 18 months old, a Shepherd/Husky mix possibly (?). He's putting on weight like a little RockStar and learning how to walk (and run) politely on his leash and harness!
We are still learning about his Dog/Dog skills, but I think he's going to love having Frenz sooner rather than later. Pluto is scheduled for neuter next week, then after he is all healed up, we will start socializing.
Here is what we know so far: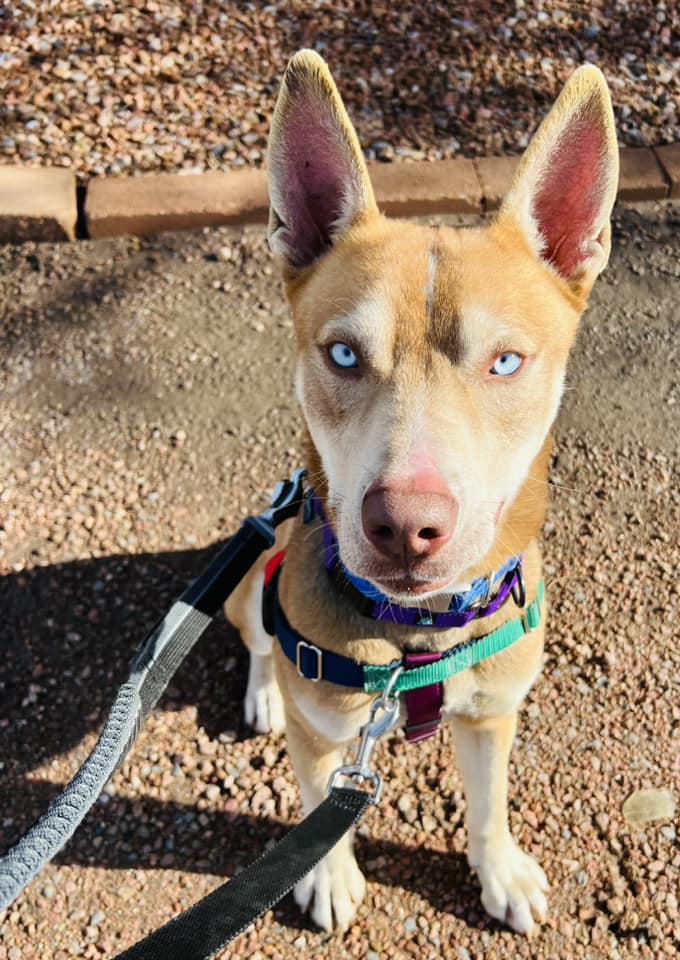 Pluto is very kissy and he likes to sit in your lap.
Pluto looooves playing with his toys
Pluto has a very pretty "sit" and he is a super fast learner.
Pluto appreciates being warm, a soft bed and he loves to eat
Pluto is incredibly sweet and he has kind eyes
Pluto is a very Good Boi
We are so grateful that Pluto is with us now and off that stupid chain. We can't wait to share his continued progress with you! There are so many Dogs who have benefited from these efforts since the Valencia County anti-tethering ordinance went into effect last year. Thank you to everyone who plays a part #ItTakesaVillage
I wish we had more time in each day to share them all with you. NMDOG is a *very* small, #AllVolunteer organization. We do our best to keep you all up to date. But, to be honest, it's a challenge most of the time because things move incredibly fast. Much faster than I can type them.
24/7/365 for the Forgotten Dogs of NM and you enable us to do it! #UNchained