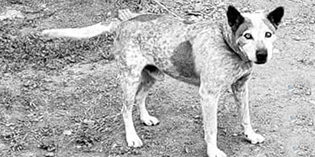 We got the call from an #NMDOG Villager Asking for help with a family members' dog who was living at the end of his chain in Las Vegas, NM (#GroundZero for animal abuse in New Mexico) for THIRTEEN looooong years. I can't even explain how full we are, how few foster homes we have, how tight the budget is, and so on. But how do you let a dog spend his last years with no vet care at the end of a chain, for any reason? If there is anything you can do for them, you don't. Because they will die like that.
We are SO grateful this young Villager was able to make a difference in the time this precious boy has left (he's pretty spunky!) and for getting him to safety with us. His new name is BlueBird and now he will live his senior years surrounded by the love and the care he deserves!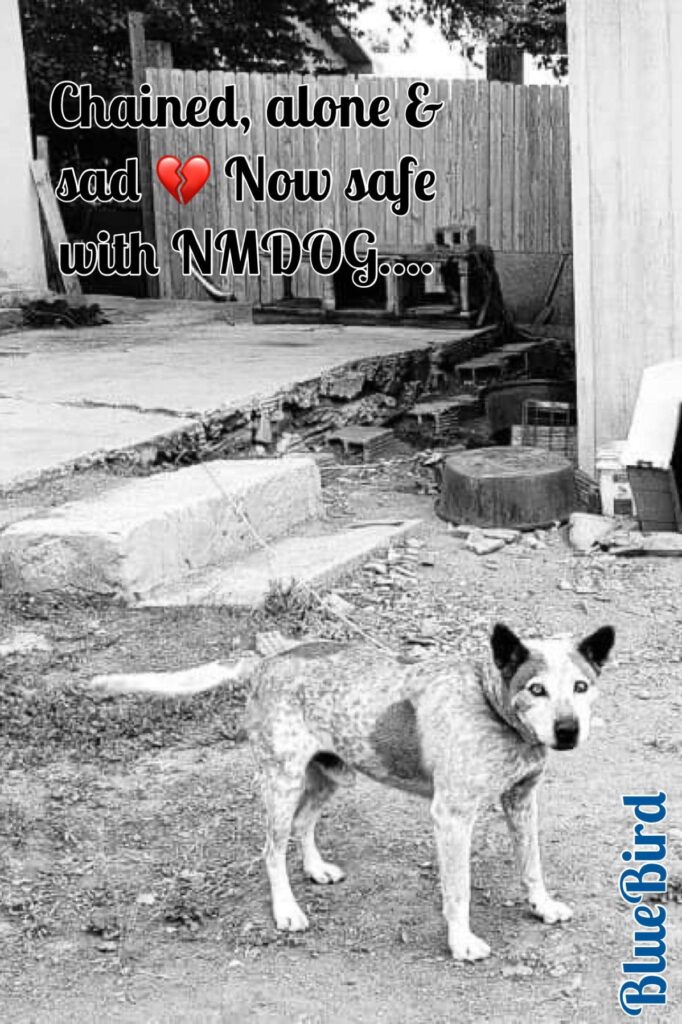 BlueBird is as sweet as his name and he is so excited with every new friend he makes and each new #ChainFree experience he has. He is no longer in any pain, no longer alone, and he will now be treated as the little prince that he is. BlueBird is approximately 13 1/2 years old, he is in fairly good shape (all things considered) and he is he most adorable little nugget you've ever laid your eyes on. He needed a bath somethin' awful when he first came in, so he spent some time with our friends at Duke City Dog Spa. He loved it and he is the goodest boy!
BlueBird has been diagnosed with uveitis in his left eye, had icky flystrike on both ears, marks from the collar on his neck, and he is in desperate need of some dental work (post infection). His senior bloodwork cleared him as a surgical candidate (whew!) and he will be in skilled hands during the procedure (with a quickie neuter too at the same time yay!). This will make BlueBird much healthier and can likely add quality months or even years to his lifespan – you know, Heelers! #HardyLittleBuggers
We want BlueBird to have the very best, quality life so we are actively seeking NMDOG #HomeSanctuary placement for BlueBird. This means that YOU provide the lifetime safety, daily care, love and commitment, and WE provide for all of his needs financially…for forever. We will even provide transportation to vet, grooming or other appointments, and provide a familiar place for him to stay if you need to travel, at no charge! It's our job to ensure these senior chained babies have everything they ever dreamed of, for as long as they want to stay with us. #ForeverFoster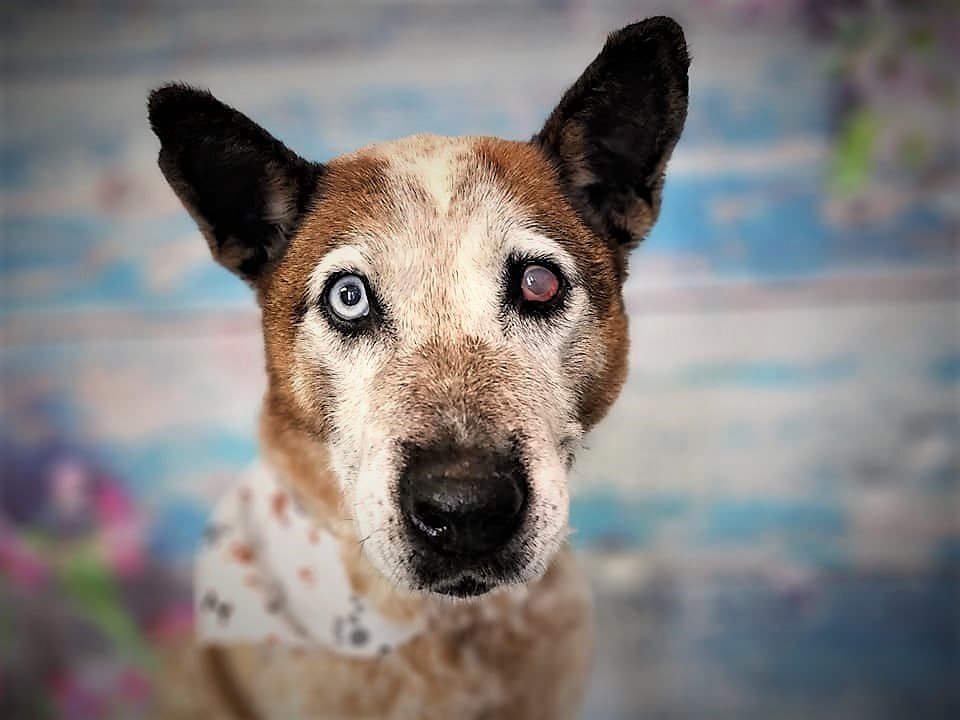 BlueBird would make an excellent companion for a senior person. BlueBird is great with other dogs, but would be happy as the only kid, or in a home with no more than one or two other calm, easy-going dogs (cats are unknown). This is all very new to him. But he is affectionate, snuggly and goofy. He walks very well on his leash + harness and he hasn't had any accidents at NMDOG HQ. I think he will be easily housetrained (13 years at the end of his chain means he's never lived in a home before). They are so smart and they learn super-fast.
BlueBird has a ton of personality and a great sense of humor. He will be an easy kid to take care of. He is a little hard of hearing and has limited sight in his one good eye (the bad eye has no vision) but that doesn't stop him; he just needs to be ensured of a safe area with supervision. BlueBird is also crate-trained in case of an emergency.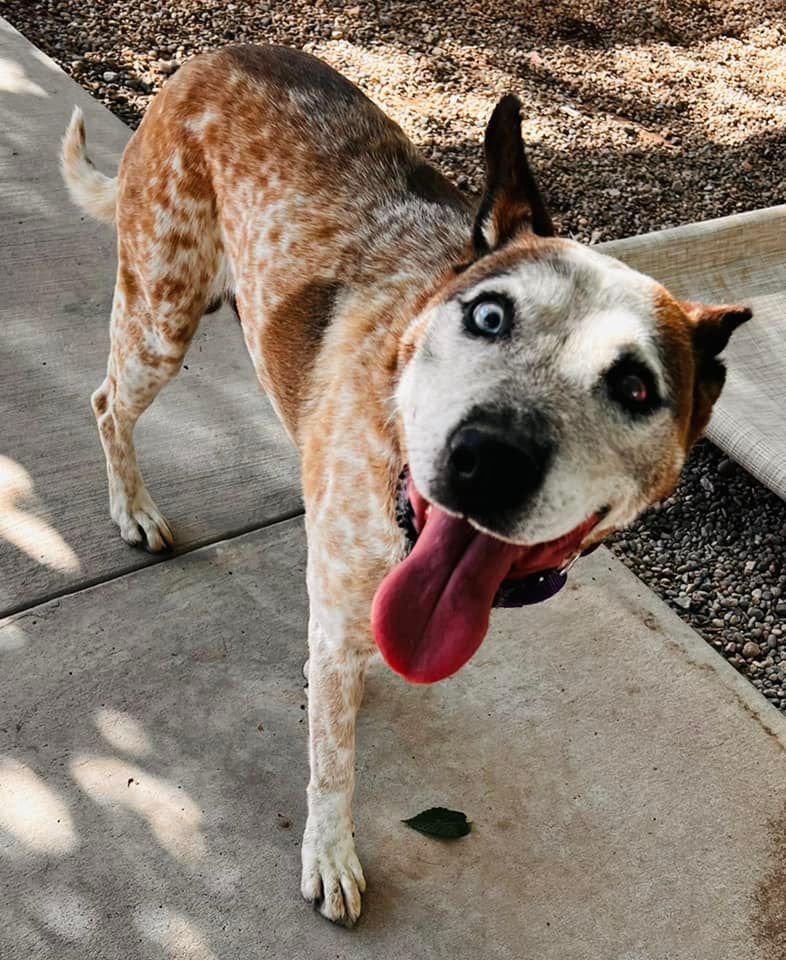 Getting a 13 year-old kiddo off of his chain is expensive and we've made a lifelong promise to him and his future Family. We can't do this without your help!
If you can't welcome little BlueBird into your home as an NMDOG Home Sanctuary Care Provider at this time please consider a contribution towards BlueBirds intake expenses. You can donate through our Facebook fundraiser or by using the DONATE button on the right-hand side.
Look how happy he is now! #UNchained #ItTakesAvillage