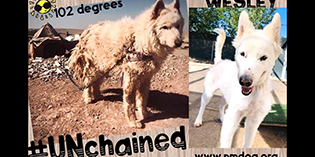 NMDOG Wesley is a sweet Malamute boy who spent 10 long years at the end of his chain. He was so matted, that it restricted his movement and his ability to poop (yet the chain still managed to scar his poor neck). We found him chained on a bed of rocks and old animal bones. It was 102 degrees that day.
We knew we had to get Wesley out of there. His life literally depended on it. Luckily, we were able to secure an owner-surrender (no easy feat!), and were able to take Wesley directly to our vet at Petroglyph Animal Hospital where he could receive the urgent care he so desperately needed.
Obviously, Wesley was terribly matted (14 pounds of matted fur and dirt were removed). But he was also very skinny, severely dehydrated, and presented with a high body temp. Three deceased dogs were also removed from Wesley's property (not on the same day). They had been no shelter; no water. Necropsies were done (funded by NMDOG), and results were provided to law enforcement. Over the week that followed, multiple other dogs were seized from the property.
What we can tell you is this: we've seen a lot of things, but this situation was one of the worst. To that end, we will update as we are able. New Mexico is truly a hellhole for most dogs. It is beyond sad, beyond disgusting, especially since IT DOESN'T HAVE TO BE THIS WAY. If only law enforcement and the media were interested in reporting on and fixing the problem. But they don't seem to be.
Luckily, the good humans at The Doris Day Animal Foundation (DDAF) provided NMDOG with a 911 grant, and we are using a chunk of it to cover Wesley's intake care, as well as his upcoming dental and mass removal procedure. We are so incredibly grateful to this long-standing Foundation for their generosity to so many deserving animal organizations.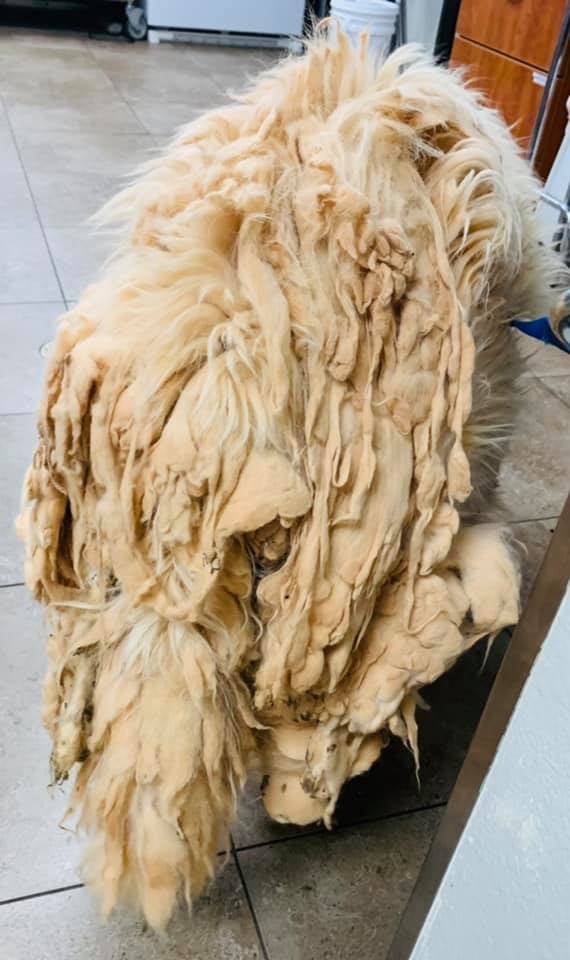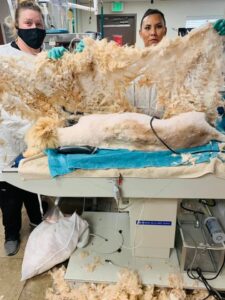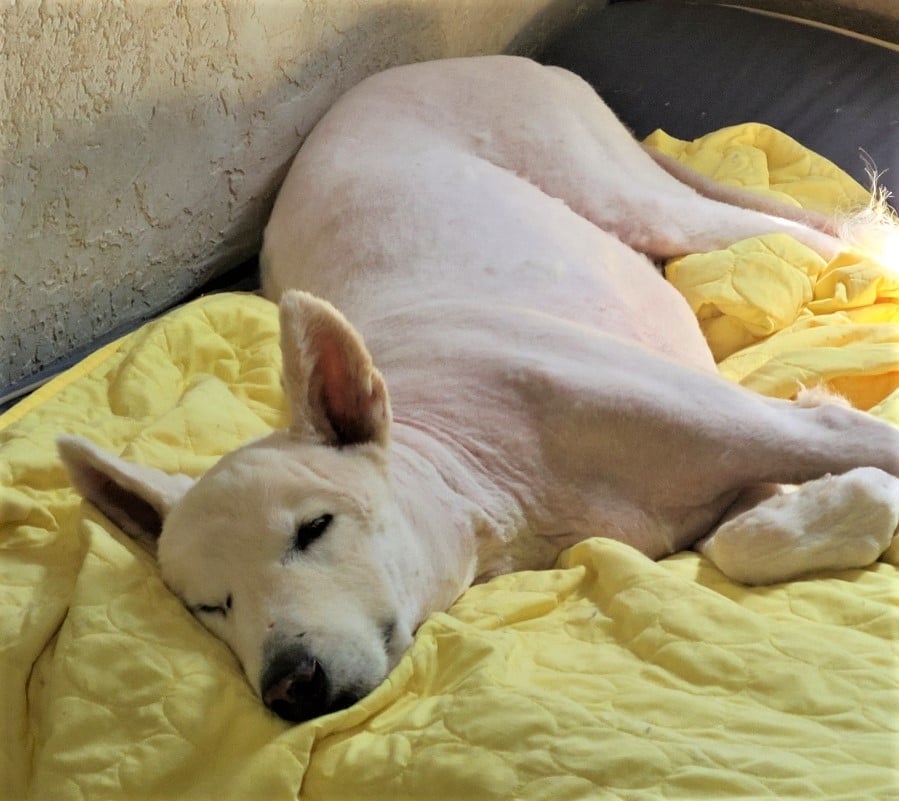 Wesley is now a brand new dog. He is reliving his puppyhood and he is ready to find a FOREVER retirement home of his dreams. Wesley is available for foster and adoption! He will do best as an only dog, or paired with a good natured, older female large breed.
A couple important comments:
1 – THIS is the foundation of the work we do at NMDOG. Chained dogs, in the middle of nowhere, hidden from view and from mainstream rescue efforts; they are why NMDOG exists. Without NMDOG, so many more would continue to suffer and die.
2 – It is EASY to foster for NMDOG, we provide 24/7 support and we provide for all of our dogs expenses and needs. Fostering literally saves lives. Please consider joining our team of foster families!
3 – Rescuing these dogs from their chains and providing the months, (sometimes years) of care they require prior to being ready for adoption is not cheap! Most of our dogs require extensive specialty medical care and all of that takes care prior to placement. Monetary donations enable NMDOG to continue this critical work. Thank you to each of you who supports our efforts!
News Coverage of Wesley's Rescue