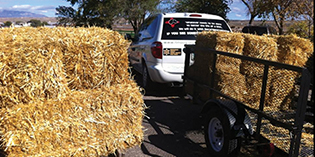 The NMDOG Statewide FREE STRAW Program is in full swing and FREE STRAW is available at MANY participating locations across the state of New Mexico!!
Complete list of pick-up locations, contact info and hours of availability are posted below.
At NMDOG, we believe ALL Dogs belong inside as part of the Family. Sadly, this is not the reality for 1000s of Dogs across the state and winter is a very difficult time for these pups. Just like people, Dogs are susceptible to frostbite and hypothermia, despite having fur coats. A doghouse is a great start, but a layer of straw insulation can make the difference between life and death. Do you have a doghouse in need of some straw or know someone who does? Use this resource and help a cold Dog survive the winter! #ItTakesAvillage
Donations from those that support our important work for NMs Forgotten Dogs keep this program alive!
Many shelters, AC Depts, Officers, Law Enforcement Depts and County Officials now have FREE STRAW to hand out to those in need. This is a result of the collaborative effort of everyone that is participating and funds generously donated to our efforts. It is our hope to make lifesaving warmth available to as many outdoor Dogs (and other animals) as possible, across the state.
Please SHARE this info and use the resources provided to secure straw for cold dogs in your neighborhood…you could easily save a life Thank you.
Valencia County – NMDOG funded
1209 Hwy 314
(505)866.2479
Tues – Sat 9am – 5pm
Torrance County – NMDOG funded
751 Salt Missions Trail  McIntosh, NM (505)384-5117
Tues-Thurs 8am – 5pm / Fri and Sat 8am – 4pm
Quay County – Tucumcari, Logan and surrounding areas – NMDOG funded
6427 Quay Road Ai, Tucumcari, NM (575)403-7475 **call for other pick-up locations**
Mon – Sun 10am-noon and 5-6pm
Abq Animal Welfare – APNM funded
~ Eastside location: 8920 Lomas Blvd NE Abq, NM (505)764-1150 | 7 days a week 7:30am – 7pm
~ Westside location: Sunset Gardens rd SW, Abq, NM, (505)768-1981 | 7 days a week 7:30am – 7pm
Bernalillo County – APNM funded
Bernalillo County Animal Care Services
3001 2nd st SW, ABQ, NM
(505) 468-PETS
Tues – Sat 1pm – 5:30pm
Rio Rancho – NMDOG funded
City of Rio Rancho Animal Resource Center
3441 Northern Blvd, Rio Rancho, NM
(505) 891-5075
Mon – Sat 8am – 4:30pm
Village of Jemez Springs – JVAA funded
Jemez Valley Animal Amigos
call for pick up or delivery (888) 828-5822
Chama Valley – CHS funded
Chama Humane Society 
call for pick up or delivery (888) 666-0641
Espanola Valley – NMDOG / EVHS partnership MATCH funded
Espanola Valley Humane Society
108 Hamm Pkwy, Espanola, NM
(505)753-8662
Mon – Sat 10:30am – 5pm
Raton – NMDOG funded
Raton Humane Society and Animal Shelter
448 Hereford Drive, Raton, NM 87740
(575) 445-8640
Mon – Fri 8am – 5pm
Sat and Sun 8am – 1pm
****If you are with a shelter or AC/LE Department that would like to participate, please send an email with contact info to [email protected]
We call in the order to your local feed store, you pick up and bag into individual servings, make it available for people to pick up and/or officers carry it with them in the field.
We all work together, and Dogs don't freeze! It's a beautiful thing Get on board today! #NoColdDogs
The price of a bale of straw has more than DOUBLED since winter 2021 ~ The need for support is greater than ever. Today… $13-$16 = 1 bale of straw = 3 doghouses insulated = 3 dogs that aren't going to freeze to death.  #GetInvolved!
Please consider a tax-deductible contribution today to help us in our Winter Outreach goal of keeping Dogs alive.
Snail Mail – 9445 Coors Blvd NW #171, Abq NM 87114
PayPal – @NMDOGinc
Venmo – @NMDOG
Zelle – [email protected]
If you have a doghouse you would like to donate, please send an email to [email protected] to arrange pick up/drop off.