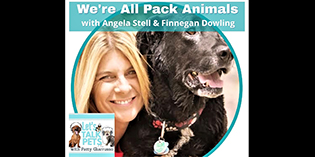 What an honor to share the spotlight with Finn and Mutual Rescue in our very first Podcast ever courtesy of the awesome Patty Giarrusso and the Let's Talk Pets Radio Podcast. Also, an NMDOG "Woof Out" to our dear Friends and Supporters at The Grey Muzzle Organization who have opened many doors for our special Senior Kiddos!
🎙️ Seniors Saving Seniors – We Are All Pack Animals Part I with Angela Stell and Finnegan Dowling.
✔️ Check out our website: Let's Talk Pets Radio
🐾 As part of Mutual Rescues' Senior Saving Seniors" theme, Mutual Rescue was able to tell the story of NMDOG's resourceful Home Sanctuary Program which brightens the lives of seniors while helping to provide loving homes for senior rescue dogs. "We're All Pack Animals" is the first in this series.
Finnegan Dowling is the Shelter Program and Social Media Manager for Mutual Rescue, a national initiative of the Humane Society Silicon Valley that encourages people to engage with their local shelters.
NMDOG serves chained and forgotten dogs in New Mexico. Headquartered out of Albuquerque, NM, this small, 501(c)3 100% nonprofit foster-based rescue was established in 2010, touching the lives of thousands of dogs ever since. NMDOG has been in the forefront of efforts to expand anti-tethering ordinances throughout New Mexico and has been a key component in multiple high-profile cruelty cases across the state.
Angela Stell founded NMDOG in 2010 after becoming aware of the lack of options for the chained, neglected, and abused dogs in the state. Angela has been recognized as 2013 New Mexico Humane Animal Advocate of The Year and won the exceptional volunteer service at the 2017 National Animal Care & Control Association conference. The "Shining World Compassion Award" was bestowed upon Angela by Supreme Master Ching Hai in 2021. NMDOG has been awarded countless local honors such as "Best Non-Profit", "Best Place to Adopt a Dog", "Best Pet Rescue", and more! In 2012, NMDOG and the Bernalillo County Sheriff's Office formed The Bernalillo County Animal Cruelty Task Force, the first Animal Cruelty Task Force of its kind. She shares her home in Albuquerque with her beloved dogs Mesa Rain, Sparrow, Roan, Astro, and Honor, as well as the foster dogs NMDOG is preparing for adoption.
Watch the Video Here:
https://mutualrescue.org/stories/were-all-pack-animals/
Mutual Rescue: www.mutualrescue.org
Instagram: @mutualrescue
Facebook.com/MutualRescue