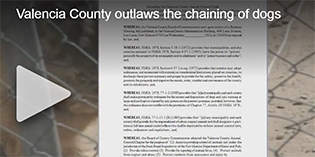 (KRQE News 13, 03/04/2022) Valencia County Commissioners approved an updated animal ordinance that outlaws the chaining of dogs Wednesday night. The updated ordinance includes mandatory microchips, requirements for outdoor shelter, and a zero-tolerance policy for the chaining of dogs.
There will be a grace period for dog owners to meet the requirements and resources will be made available for pet owners who need help. The ordinance also includes a sterilization fee for animals impounded or a third time or more.
Jess Weston, the animal control director, explained what it means for the average person. "If I want to own an animal, I need to buy an appropriate dog house for it. I need to make sure it has appropriate containment. I need to make sure it's cared for correctly," Weston said.
Some citizens did express opposition. "One of my main objects is this thing about not tying dogs up. Some dogs need to be tied up. Otherwise, the public is going to be in more danger," a citizen said.
Some raised concerns about the costs. "We walk out the door and start hammering people tomorrow morning, that's not what we're about. Compliance is what we want to get compliance it takes education, outreach, and resources," Weston added.
Groups like NMDOG and Animal Protection of New Mexico are stepping in to assist pet owners who need help. "We'll have an application process for citizens that need our help with fencing, dog runs, spay and neuter, microchips, dog houses, straw – all of these things," said Angel Stell with NMDOG. "We won't be able to build a fence for every chained dog in Valencia County, but we're going to do our best to help as many chained dogs stay with their families as possible."
During the meeting Wednesday night, Valencia County Animal Control said the village of Los Lunas and city of Belen are considering something similar since this ordinance only applied to unincorporated areas of Valencia County.