Media Archive
| | |
| --- | --- |
| <> | October 11, 2019 | NMDOG's Angela and adoptable cutie Axis discuss NMDOG's Holiday Auction, which will be live on Facebook from November 13 to November 20, 2019. |
---
| | |
| --- | --- |
| | September 13, 2019 | NMDOG's Angela on KRQE News 13 explaining the NMDOG Home Sanctuary Program with Malone. |
---
| | |
| --- | --- |
| | March, 16 2019 | Samantha Groves is the winner of the BLUE SOLO CUP CHALLENGE and chose NMDOG to receive a $300 donation. Here is Angela talking about why she started NMDOG and what you can do to be involved. |
---
| | |
| --- | --- |
| | November 26, 2018 | See NMDOG's Angela and Honor on KRQE News 13 talking about keeping dogs warm this winter. |
---
| | |
| --- | --- |
| | March 27, 2018 | Dog Found Hanging by Chain, Another Found Shot |
---
| | |
| --- | --- |
| | December 10, 2017 | More Santa Paws and NMDOG Giving Tree coverage on KRQE News 13! |
---
| | |
| --- | --- |
| | December 7, 2017 | Honor and Angela visit the KRQE News 13 studios to talk about the upcoming Santa Paws event |
---
| | |
| --- | --- |
| | August 18, 2016 | News story on the official release of the book "Goodbye Bad Guys," by Kate Kuligowski. This is the story of how the Bernalillo County Animal Cruelty Task Force (BCACT) was formed and the working partnership between the Bernalillo County Sheriff's Office (BSCO), Bernalillo County Animal Care Services (BCACS) and NMDOG. BCACT is the only known grassroots Animal Cruelty Task Force of its kind! Order your copy from Amazon. |
---
| | |
| --- | --- |
| | September 21, 2015 | This is Bruce Wayne, yet another severely abused, neglected dog that NMDOG says they rescued from San Miguel County in just the last year. |
---
| | |
| --- | --- |
| | August 11, 2015 | The exact series of events that Cub the heeler endured are unknown, but resulted in him fighting for his life. Earlier this year, near Las Vegas, N.M., he was found with severe trauma—the bone on one leg exposed and the other leg completely missing, along with traces of wounds on his body. |
---
FOLLOW THIS LINK TO THE VIDEO
July 20, 2015 | KOAT 7

Another arrested in connection with brutal dog abuse

A second woman has been charged in connection to the case of Cub, a dog turned into a shelter earlier this year with one leg missing and another leg barely hanging on. Police said Caroline Maes is charged with extreme cruelty to animals and conspiracy.
---
July 15, 2015 | The Albuquerque Journal

Local angels give Cubby new life

LAS VEGAS – The one-time owner of a dog that was found walking on his exposed bones is facing felony animal cruelty charges. Cub was found walking along a street in Las Vegas, N.M., earlier this year with one of his back legs missing, the other barely hanging on. "It was kind of shocking to all of us. My heart broke," said Angela Stell, founder and president of rescue organization NMDOG told news media.[Click here to read the rest of the article. Please note: the website will ask you to answer a few survey questions before taking you to the article.]
---
FOLLOW THIS LINK TO THE VIDEO.
July 14, 2015 | KOAT 7

Dog's Former Owner Arrested

Tonight justice for a dog abused so badly, he nearly died. We first told you about Cub when he was found in Las Vegas with one missing leg and the other badly injured. Now Action 7 News reporter Laura Thoren tells us his former owner is under arrest.
---
May 31, 2015 | KOAT 7

Bernalillo County deputies crack down on animal cruelty, neglect — Animal Task Force seizes 3 dogs, issues 55 violations
ALBUQUERQUE – Bernalillo County sheriff's deputies with the Animal Task Force were out Thursday walking Albuquerque's South Valley trying to find people who were not properly taking care of their pets. Deputy Laura Bailey said that after about eight hours of patrolling, they issued 55 animal care violations, seized three dogs and arrested five people including one who now faces more than 40 misdemeanor charges. She said they'll be following up on some other houses as well for further investigation. Bailey said they were mostly looking for pets that were chained up and didn't have food or water. They found several instances of this. At one point, they found a dog so malnourished and covered in fleas and ticks that they had to rush it to the vet. The dog was eventually euthanized. BCSO said they would like to do animal cruelty sweeps more often but they depend on available funding and manpower. View video on KOAT's website.
---
May 30, 2015 | KRQE 13

Bernalillo County Task Force Tracks Down Abused Animals

ALBUQUERQUE – Bernalillo County Sheriff's Deputies, along with volunteers in Albuquerque aren't waiting to get calls about animal abuse, they're hitting the streets to look for pets who need to be rescued.
They're part of the Bernalillo County Animal Cruelty Task Force, conducting random sweeps in the streets of the South Valley. "We're looking for signs of animal neglect, cruelty," said Deputy Laura Dailey, with the Bernalillo County Sheriff's Office. Thursday, BCSO deputies, representatives with Bernalillo County Animal Care Services, and volunteers with NMDOG, made contact with the community.
---
May 23, 2015 | The Albuquerque Journal

Local angels give Cubby new life

ALBUQUERQUE – When Cubby – a 6-year-old heeler-corgi cross – was discovered on Valentine's Day by the animal rescue group NMDOG, the severely dehydrated stray was making his way along a road in Las Vegas, N.M., missing one back leg, with the other barely hanging on…. [Click here to read the rest of the article. Please note: the website will ask you to answer a few survey questions before taking you to the article.]
---
March 3, 2015 | The Dodo
'Miracle' Dog Exposes America's Shameful Use Of Leghold Traps
Every year on public and private land throughout the country, thousands of animals suffer and die slow deaths after becoming ensnared in leghold traps, considered by some to be one of the cruelest devices ever invented by man.
More often than not, the horror inflicted upon creatures caught by these indiscriminating instruments of pain is seen only by the trappers who've rigged them.
However, in a shocking story of survival, one trapping victim survived to expose the shameful truth behind the use of traps in America.
Cub might look like a typical dog, but he's endured suffering most people would find unimaginable. In February, he was discovered along a country road in New Mexico, half his body riddled with shotgun pellets, hobbling upon the exposed ends of bones where his hind legs once were — injuries consistent with a leghold trap.
"[Veterinarians] think he had been walking on his bones for weeks, since the healing showed it was not a new injury," Judy Paulsen, an antitrapping advocate from Project Coyote, told The Dodo.
"It's amazing the dog didn't bleed to death. He must have had such a strong will to live," she said. "I suspect this trapper checked his trap, found a dog in there and thought he must be dead and shot him to put him out of his misery when he turned out to be alive. This is all speculation, but we have so much of this going on all over the country."
Rescuers originally thought that euthanasia was the only humane solution for Cub, but despite the seriousness of his injuries, he seemed unwilling to give up. They called him a "miracle."
"This dog had been holding his head up and doing everything he could to say 'please don't let me go, I have a purpose'," says Paulsen. "We think his purpose is to spread the word about trapping and how inhumane it is, and how indiscriminate it is."
Although he had to have his rear limbs amputated, Cub has since gone on to make huge strides in his recovery. Less than a month after being found, he is growing accustomed to getting around on two legs.
Cub's perseverance to survive has only emboldened Paulsen and others to work harder to campaign against the use of traps, hoping to ensure that no other animals fall victim to them.
Leghold traps have been outlawed in more 80 countries worldwide, including in the European Union, but in most places in America they're used with few regulations.
"These trappers set these traps saying that they're going for fur or pelts, then they don't check them for days, not knowing what's going to be in there," says Paulsen. "We've had endangered species trapped, and plenty of domestic animals."
Recreational and commercial trappers aren't the only ones claiming countless unintended victims. Camilla Fox, founder of Project Coyote, tells The Dodo that federal wildlife officials continue to set traps to capture "problem predators," like bobcats and coyotes, despite being such an indiscriminate and cruel method.
"It's not infrequent that non-target animals get caught in these traps. [The Department of Agriculture's] Wildlife Services, since 2000, has killed at least 50,000 non-target animals through their program. This is a program where they claim methods employed are target specific," says Fox. "We're far behind in terms of trapping reform as a nation."
According to the Washington Post, the Wildlife Service killed more than 4 million animals by way of trapping and other methods in 2013, though it is unclear how many non-target animals also lost their lives.
Project Coyote and other animal welfare groups have campaigned for such reforms, but attempts to prohibit traps on public land in places like New Mexico have so far been fruitless.
"I think trapping is abhorrent, a vestige of an archaic way we managed wildlife in this country. We need to evolve beyond these kinds of practices," says Fox. "We need to pass laws to ban indiscriminate traps that are simply ecologically and ethically unjustifiable. They have no place in modern wildlife management and conservation."
---
February 25, 2015 | Examiner.com
Survivor pooch: Cub walks on his front legs after tortured past
Until one sees the determination of a little gray and black Heeler, who has obviously suffered more than any living creature should, this dog continues to be a miracle recovery almost beyond belief describes the NMDog, a rescued organization out of Las Vegas, New Mexico.
On Valentine's Day, a good Samaritan reported spotting an abandoned dog, but not just an often seen skinny lost dog; this boy was missing his rear leg with the tibia bone fully exposed. His right leg, with the tibia exposed was dangling, and just as if he were on tiny stilts, the dog had been using his exposed bones to help him walk.
Animal Welfare Coalition of Northeastern NM at Las Vegas, NM were dispatched and transported the young dog to the emergency veterinarian. A first thought was to humanely euthanize the suffering little canine; his pain believed to have been unimaginable, but the staff at the Petroglyph Animal Hospital were shocked when:
"…even more than the severity of his injury, was the spark in his eyes, his will to live and his pleading with us to help him. He was not crying, he was not flat; he was bright, alert and responsive to everything around him. He held his head up, he interacted with our movements and he looked at us as if to say…'It's about time I found you guys. I've been traveling and searching for help for so long.' We all gathered ourselves, got to work and it was in that moment the decision was made..we made the pledge to give him our all!"
Named Cub by his rescuers, the dog was stabilized, treated for trauma as well as gunshot wounds and what remained of his back legs were amputated. Veterinarians believe Cub may have been caught in a wild animal trap; thus explaining the traumatic injuries. How the dog survived is anyone's guess, but it is believed he chewed off the lower part of his legs captured and crushed in the snare trap.
Amazingly, within the first 24-hours following surgery, Cub was raring to go and in a most unusual way, began to propel himself forward.
Meanwhile Cub's message will be out there, and that is to stop inhumane trapping. After all, look at what it has done to a dog. How many other domestic pets have suffered from such a cruel, barbaric practice in New Mexico?
"Many times, I have envisioned Cub traveling his journey, being caught in the trap, chewing his way free and being picked up by the good samaritan…all of the time with Dog Angels walking all around him! I see one on each side of him," writes Angela Stell, the founder of NMDog.
Cub is being trained to use a cart, but watching his video shows this boy's will to succeed. Guess you just can't keep a good Heeler down.
If you would like to help with Cub's medical needs and his future, please click here.
---
February 24 2015 | KOAT 7

Remarkable recovery: Dog found walking on exposed leg bones

LAS VEGAS, NM – A stray dog named Cub was found walking along a road in Las Vegas with gruesome injuries earlier this month.
---
November 29 2014 | Taos News
Winter outreach for animals: NMDOG to the rescue
TAOS – This year, Stray Hearts Animal Shelter of Taos and Taos County Animal Control are teaming up with NMDOG for their Winter Outreach to make straw bedding available for animals that live outside, in an effort to provide warmth and save lives.
NMDOG is providing bales of straw, which will be bagged for distribution for those in need. If you know or see an animal in need, please say something – do something. It could very well save a life!…
---
March 7, 2014 | KRQE 13

Kicked Dog Needs Foster Home

ALBUQUERQUE – Bernalillo County Animal Control says someone may have kicked this dog so hard he had to have emergency surgery for tears in his stomach area. The pit mix named Benjamin Buttons, or Benji, was found this week in the South Valley…
March 2, 2014 | KRQE 13

Injured Dog Gets Second Chance

ALBUQUERQUE – She was left for dead, hit by a car. Now, an injured dog is getting another chance. The Sandoval County Sheriff spotted a blue pit bull lying on the side of the road Tuesday. She was hit by a car, but the Sheriff and Animal Control rushed her to a vet…
October 1, 2013 | Bosque Beast

Walking with the Pet Patrol

BERNALILLO COUNTY – MAYBE IT'S NOT QUITE on the level of CSI or Law & Order, but for an animal-lover, riding with deputies on a South Valley anti-cruelty sweep is so much better. It's terrible crime and true justice, with more than a dose of satisfying vengeance thrown in. Read full article >>
September 25, 2013 | KOB Channel 4

Bernalillo County Cracking Down on Animal Cruelty

BERNALILLO COUNTY – Now, Figgy can race down the sidewalk in what caretakers call his "turbo cart." But months ago, he was in much different condition. He was rescued after being chained, which led to severe injuries.
---
July 25 2013 | KRQE 13
Newborn Puppies Saved at Intersection
ALBUQUERQUE (KRQE) – A retired animal control officer spotted the three newborn pups in a dirty dog bed at Bridge and La Vega late Thursday morning.
"Which at that time of day can be a relatively busy road. The fact that they're alive right now is a miracle in and of itself," said Matt Pepper of Bernalillo County Animal Care Services.
The pups are just a day or two old and appear healthy. It's too early to tell their breed.
A rescue group called New Mexico Dogs Deserve Better has them, but the dogs will eventually be adopted out.
Newborn puppies saved at intersection
---
July 24 2013 | Univision
"Un hogar permanente"
---
May 27 2013 | KOAT 7
"Pet Supplies for Oklahoma" by Laura Thoren
---
May 5 2013 | KOAT 7
"Two Dogs Shot in the Face at Point-Blank Range" by Anna Velasquez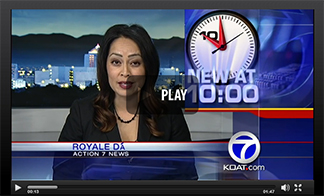 ---
January 5, 2013 | Valencia County News Bulletin
Dog Rescue Helps with Local Problem
by Deborah Fox
NMDOG, a nonprofit charity to promote animal welfare in the state, began visits to Valencia County last month. Volunteers of the organization travel all over the state, educating people about animal care, advocating for dogs and providing immediate provisions. Read more…
---
January 3 2013 | KOAT 7
Cold Weather Poses Threat to Outdoor Pets
With temperatures dipping well below freezing, pet experts say people aren't the only ones who need to bundle up. If a pet isn't allowed to warm up inside the home, animal safety advocates say it's best to have a shelter with a little something extra added.
>> VIDEO: Cold weather poses threat to outdoor pets — What pet owners should do to keep them safe
---
December 20 2012 | KKOB 4

Artesia Cracks Down on Animal Abuse

Artesia Police arrested 18-year-old Samantha Delgado and charged her with animal cruelty, citing actions they say broke both city ordinances and state law. Read full story.
---
December 9 2012 | KOAT 7

Chained Dog Ordinance

RIO RANCHO – Anti-chaining laws are popping up all over New Mexico, and one Rio Rancho dog (NMDOG Shiloh!) is now becoming the face of why these ordinances are so important…
---
November 25 2012 | KRQE 13

Abused Dog Searches for Fresh Start

ALBUQUERQUE – Ozzy, an Australian Shepard/Collie mix was found barely alive, chained up for weeks and suffering from a severe head injury, but now he has a chance at a fresh start.
---
September 29 2012 | KOAT 7

Dog Chain Law

It's the law, but a lot of dog owners are not obeying it. They are still tying up their pets, leaving them in the backyard unattended. New at 10:00 Action 7 News reporter Liz McKernan explains why one rescue group is working to stop it. "Meet three-year old Mikey. Before non-profit rescue group New Mexico Dogs Deserve Better bought him on Craigslist, this was his life."
---
July 30 2012 | KRQE 13

Activists Fight to Unchain Dogs

ALBUQUERQUE – Authorities rescued a child and family dog from a home said to be in deplorable condition. It's a case that without the help of some very caring people could have had a very unhappy ending.
---
May 7 2012 | New Mexico Style, CASA FOX 2

The New Sheriff in Town

Nikki and Kristen are joined by Angela Stell, of NMDOG, Lieutenant Andi Taylor, from the Sheriff's Department, and "Sheriff," who has become the poster dog against animal cruelty. They talk about the county's animal cruelty task force and share details on how to get involved with their fund-raising efforts to pay for Sheriff's $4,000 Vet bill.