About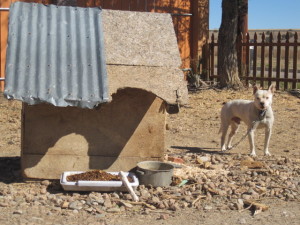 NMDOG is an all-volunteer, 501 (c) 3 dog rescue unlike any other. Established in 2011, NMDOG reaches out across the state of New Mexico to the dogs that need help the most: the chained, the abandoned, the victims of the most horrific cases of cruelty, the forgotten ones. We are their voice… sometimes their only voice!
We focus our efforts on rescue, community outreach, education, rehabilitation, adoption, and networking. We work to free chained dogs from their tethered misery, to see them living inside of a warm and loving home, and attempt to accomplish this by educating their guardians to do better for their canine family members. We offer guardians any supplies that will help them accomplish this goal, whether it be fencing, doghouses, food, obedience training, spay/neuter or other medical services. When guardians choose to owner-surrender their animal instead, we take these pups into our program, or arrange for another reputable private rescue to take them in. This is when the, often lengthy, process of healing and rehabilitation starts. And this is where our wonderful foster families come in. We have no shelter facility, and our foster homes allow our dogs to heal in the safe, loving environment of a real home (often the first one they've ever known) until they are whole again, and ready for forever.
We are proud of the many fruitful partnerships we have established with other private rescue organizations, local animal control/welfare departments, law enforcement, and municipal shelters. We are always available to talk to municipal leaders and other groups about the importance of spay/neuter, about the dangers of chaining, and about developing more humane animal welfare standards.
| | |
| --- | --- |
| | Animal Humane NM put together this video showing how they, NMDOG, and Bernalillo County Animal Care Services got together to help animals displaced by the Dog Head Fire in July 2016. |
In order to help the many dogs in need, we rely exclusively on donations. There is a variety of ways you can help us help them, ranging from making a tax-deductible donation, shopping online with iGive activated, donating items we need, volunteering by helping us out at events or with things we need done, to reporting a chained, neglected or abused dog that needs our help, or becoming one of our valuable foster families.
Browse through our many success stories to see the difference in the lives of dogs your support makes possible (It only takes one person to throw away an animal, but it truly takes a whole Village to find them a new home!). Due to the nature of our work, not all of our endeavors end on a happy note. Heartbreak goes hand in hand with rescue. Some stories are disturbing, but this is the unfortunate reality of what we face every single day.
So snuggle up with your closest furbaby and travel through the contents of our website with a curious mind and an open heart. The site is continuously updated, so make sure you check back often!
Why we do what we do
10/17/2013 — PUMA was placed on her chain at 8 weeks old and never knew anything else. She was fed, her collar was not embedded, she was provided minimal shelter, but no socialization. She was alive, but by no means was she living. She was not allowed to be a dog. When she was surrendered to Bernalillo County Animal Control Services last week, now a year old, she behaved very aggressively. Fortunately for her, she was taken into the custody of a department with a sense of compassion, an understanding of the needs of these dogs, a close partnership with a rescue whose focus is chained dogs and the desire to do better! PUMA is one of the feel good stories…not all end this way. For too many, life on the chain imposes such critical damage both physically and psychologically that they do not recover. We carry those dogs with us each day. Had PUMA been impounded to a traditional municipal shelter, she would have likely been unsafe to handle. Your donations are what enable us to take dogs like PUMA into our care & give them the chance they deserve. PUMA will still need enrichment and time to learn to trust new people in her space (she grew very territorial on her chain). But she is going to make someone a wonderful and loyal companion one day! You are watching PUMA play….probably for the the very first time in her life…