When:
May 30, 2015 – May 31, 2015
all-day
2015-05-30T00:00:00-06:00
2015-06-01T00:00:00-06:00
Where:
Balloon Fiesta Park
5500 Balloon Fiesta Parkway
Albuquerque, NM 87113
USA

#FetchandReleash is the pet celebration of the year, with fun for the whole family! Visit with pet-friendly vendors, meet tons of adorable, adoptable pups, pick up some samples and goodies, and view dog training demonstrations while the kids have fun in the jump houses and on the water slides. Get your face painted, enjoy a relaxing chair massage, and grab a tasty meal from one of the many food trucks. Some fantastic prizes are available in the fundraising raffle.
Mark your calendars today & don't miss this event!!!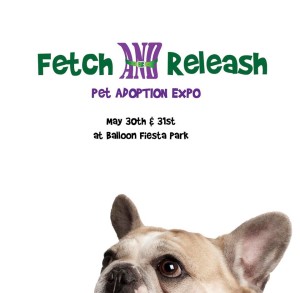 Fetch and Releash Pet Adoption Expo
#FetchandReleash is the pet celebration of the year, with fun for the whole family! Visit with pet-friendly vendors, meet tons of adorable, adoptable pups, pick up some samples and goodies, and view dog training demonstrations[...]
&media=" target="blank">Pinterest
×