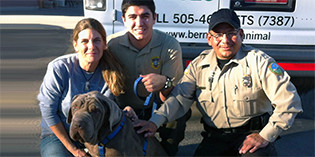 Animal Care Officers Smiley and Clark were instrumental in the recent NMDOG rescue of emaciated, chained "Romeo." That was a couple weeks ago. Today, we stopped by the Animal Control Office to surprise these amazing officers with a visit! It is always good for those in the field to see the successes of their (often times) thankless work, and to know they had a hand in making a difference, even if for "just one dog." Officers Smiley and Clark hadn't seen Romeo since his rescue, and, after only a few weeks of TLC, Romeo is a completely different dog. Romeo now weighs in at 83 lbs (from an emaciated 70 lbs upon intake — he still has about 40 more lbs to go!), had his eyes checked (which are healing up great post-op), and got his bi-weekly Ivermectin injection for Sarcoptic mange. His fur is growing back beautifully, and all of his open wounds are healed up. Romeo, despite his past, is just about as sweet as they come, and gives the best Manatee kisses on the planet (aside from a real Manatee, I suppose).
Animal Care Officers are making a difference for many dogs in Bernalillo County every day, and for that, we are immensely grateful.
Romeo remains on medical hold, but we are currently accepting adoption applications for him.
A big THANK YOU to Bernalillo County Animal Care Services from Romeo and all of us here at NMDOG!
Kudos to Bernalillo County Animal Care Officers
×